Friday, October 15. 2021
The first filing deadline for the FERC's new XBRL mandate is fast approaching. Are you ready?
You can now visit ferc.xbrl.works and try XBRLworks for free during its no-risk, no-commitment beta period. XBRLworks is our cloud-based solution for FERC XBRL. With XBRLworks, you can access your FERC filings from any device anywhere. It's fast and easy to create an account. Simply select a subscription to try and begin using XBRLworks' many helpful features to create FERC XBRL filings. Best of all, from now until midnight December 31, 2021, your first filing is free.
Here are some key highlights:
Projects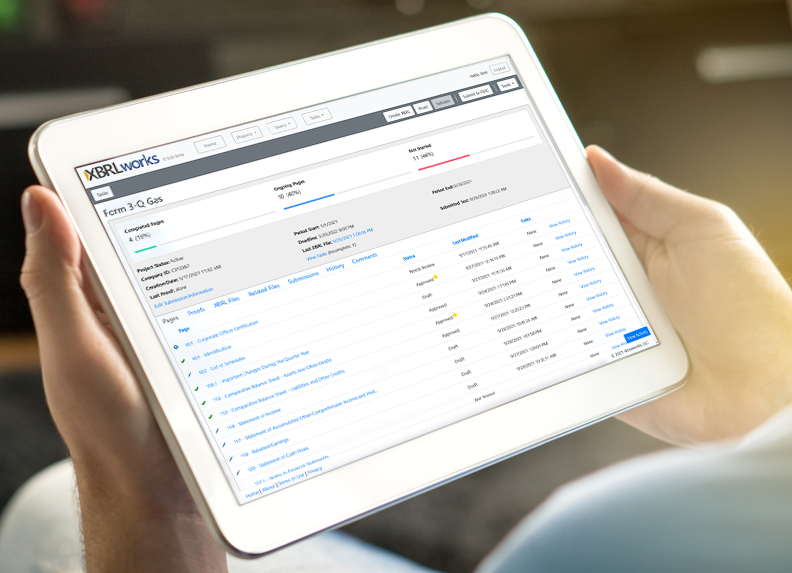 You can create projects for each of the form types required in the FERC XBRL mandate, from quarterly reports to annual forms. Projects store data in easily readable forms, so you don't have to work with XBRL tagging.
Project features include:
Project templates — Default setups for form types allow you to set which forms you use and which you don't file. Templates for each form set the pages that are applicable and which pages you don't fill out.
Project summary — This page puts all your work in one place. See the tasks assigned to the project, manage progress and your workflow, and access each of the project's form pages.
Project tools — Projects can be reassigned to a different teams, archived, proofed, validated, and exported to XBRL. You can also submit your filings to the FERC directly through XBRLworks.
Teams
XBRLworks makes collaboration between users easy through teams. As a team leader, you can share unlimited projects with your teams. As a team member, you can work on an unlimited number of projects with multiple groups of people. Teams can be reused, so you only need to set up your workflow one time, no matter how many times you need it. You can assign different access permissions to team members with the Edit Team function.
Form Pages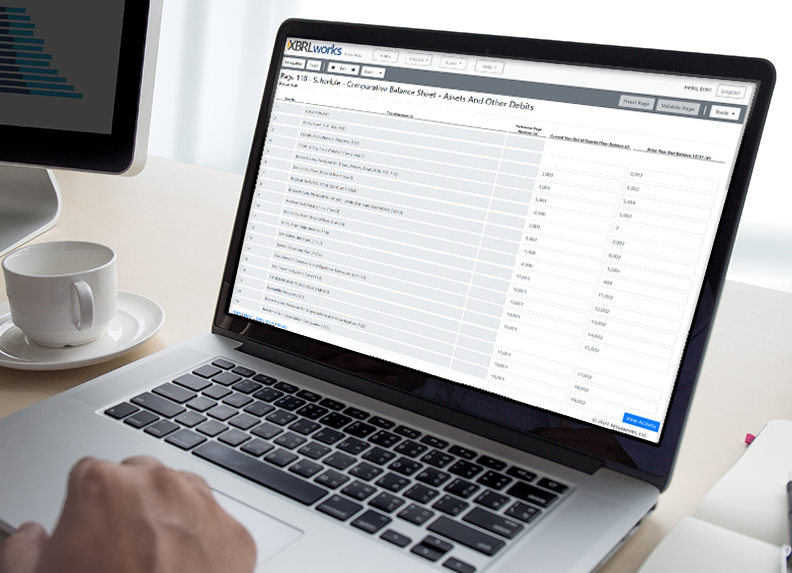 Form pages provide an easy-to-use web interface to control your data without needing to know XBRL. Each page displays the form data in easy to complete tables or questions. XBRL creation is handled by the software behind the scenes, so you can work inside simple forms with powerful tools and submit an XBRL filing without tagging or editing XBRL data.
For subscriptions that support collaboration, multiple users can edit the same form page at the same time.
You can import data from Excel or any spreadsheet application by copying/pasting the information directly into an XBRLworks form page. Data can also be pasted directly into XBRL footnotes.
Data is validated as you work, and XBRLworks warns you if you try to leave a page with unsaved edits. If a field on multiple form pages represents the same XBRL fact, XBRLworks will automatically update the information on every applicable form page if the value is changed on any of them.
Leave comments on particular form fields for yourself, other team members, or reviewers. Also you can lock pages to prevent unwanted edits.
Tasks
If you're collaborating, you can assign tasks to your team members and see their progress as they work to help keep you and your team on target.
Task status show progress or trouble, and you can add notes to tasks to communicate with your team or help set reminders.
Tasks can be assigned to projects or to specific pages within a project so you can prioritize portions of a form as needed.
Upcoming tasks and other deadlines appear on your Dashboard. Tasks also appear on the Project Details page and on project pages right where you work.
Subscription
You can begin a trial period with four subscription tiers: Basic, Basic+, Premium, and Premium+. Once the trial expires, you will be prompted to purchase a subscription. All data you enter will be left as-is during this transition, so there's no need to worry about data loss or loss of workflow continuity. For subscription tiers that support additional team leaders, you can invite other users to share your subscription with you and explore the powerful collaboration features XBRLworks has to offer.
More features are on their way over the next few months. Again, this is a no-cost, no-obligation trial. Go to ferc.xbrl.works to register and begin filing right away. Feel free to contact support@novaworkssoftware.com and sales@novaworkssoftware.com with any questions or feedback.
Give yourself the strength and capability of XBRLworks, the most complete XBRL and reporting solution for FERC filers. File now, file free!